Meet with ZOOM ZH50
ZOOM's Three Unique Techs
Dual Field of View Design
The wider FOV with a focal length of 25mm can be used for target search while the narrower FOV with a focal length of 50mm can be used for target identification.

The detection distance can reach up to 2.6km. With F-number 0.88/1.1, imaging clarity can be lifted to a new level.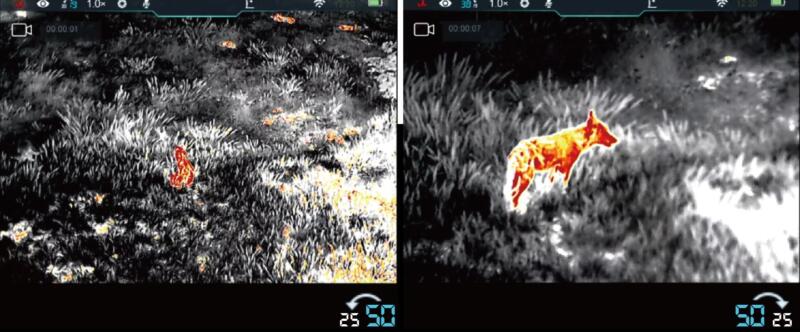 1440×1080 FHD OLED Display
Using a 1440×1080 FHD OLED display, the observation effect is more excellent. And the 20×magnification eyepiece makes the target search more accurate and the observation distance is longer.

Shutterless Technology
The shutterless core module is adopted to nullify the shutter calibration, and simplify the operation.
12µm Thermal Imaging Sensor with NETD ≤25mK
ZH50 is equipped with uncooled VOx 12um 640×512 high resolution sensor featuring NETD ≤25mk (25°C, F#=1.0). With the powerful sensor and image algorithm, better image quality is provided. Even in heavy fog and rain, the built-in ultra-clear mode can also result in clear imaging through a more detailed field of view and enhanced object identification capabilities.

10 hrs × 2 batteries
Using low-power components, lower power consumption, with a standard additional battery pack and a replaceable 4400mAhlarge-capacity lithium battery pack, battery life of up to 20 hours.

32GB Storage & WiFi Connection
ZH50 is built with a memory of 32GB which can support storing video and pictures. Built-in WiFi module supports APP connection and media transmission.

5 Color Palettes
For different hunting environments and personal habits, ZH50 provides more than 5 color palettes, including "white hot" "black hot" "red hot" "color" and "hot target highlight". Switching between different color palettes is fast and easy.